Overview

The Coordinate Finder can be found under the VIEW menu.

It allows you to enter coordinates from a variety of coordinate systems and find the location of those coordinates on a map.

For example, if you have the British National Grid coordinates 463601, 152160 you can enter them and it'll show a pin on the map at that location.

Options

The Coordinate Finder currently has three coordinate types to choose from:

British National Grid

Latitude / Longitude

Pseudo Mercator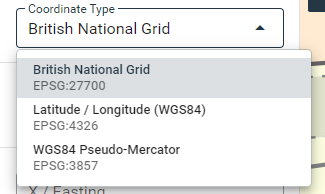 Usage

Firstly, select the coordinate type you want to search for using the drop-down box. This will change the options available to you below.

For British National Grid

You will have three boxes giving you two options. Either:

Enter Easting and Northing values into the first two boxes, or,




Enter an 8 digit OS Grid Reference into the third box.



As soon as valid coordinates or grid references are added, the other option will automatically populate.
Click SEARCH to find the location on the map.

For Latitude Longitude

You will have two boxes to enter both the latitude and longitude.


Note: Latitude and Longitude values must be in Decimal Degrees (e.g. Longitude -1.0898 Latitude 51.2651. This search does not accept Degrees Minutes Seconds.
Longitude. This is a value East or West of the Prime Meridian. This can be positive or negative numbers.

Latitude. This is North or South of the equator. This can be positive or negative numbers.
Click SEARCH to find the location on the map.

Troubleshooting

I've clicked Search and the map goes white with a pin in the middle.
This usually means you've got the coordinates flipped the wrong way around in the boxes. Try them the other way around. If that doesn't work it usually means the coordinates are not within the bounds of the maps available to you (indicating that the coordinates are wrong).